Make a difference without leaving your home
We believe that a healthy and sustainable life is for everyone, not a luxury for the few. We also believe it's possible to live a good life within the limits of the planet. Take a look at how we are making a more sustainable life a bit easier.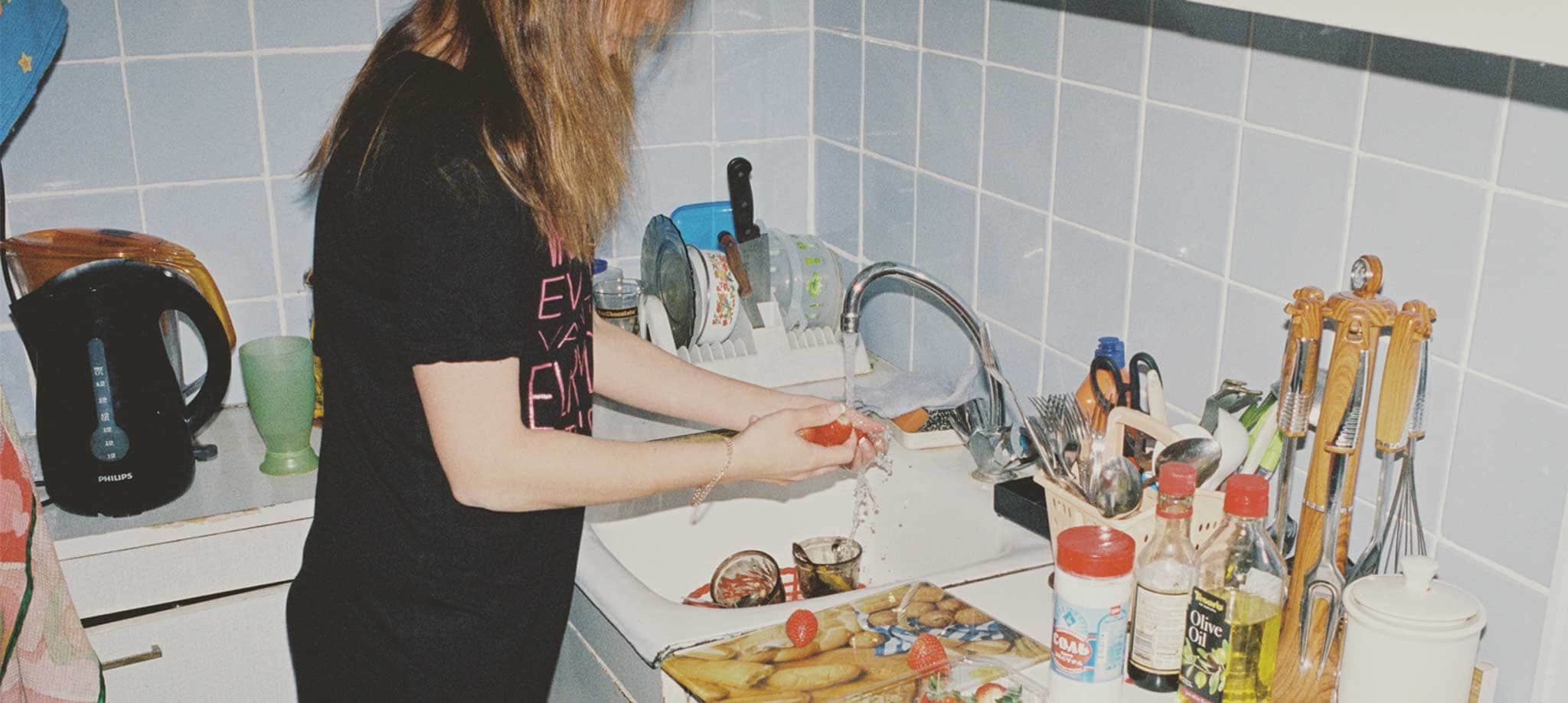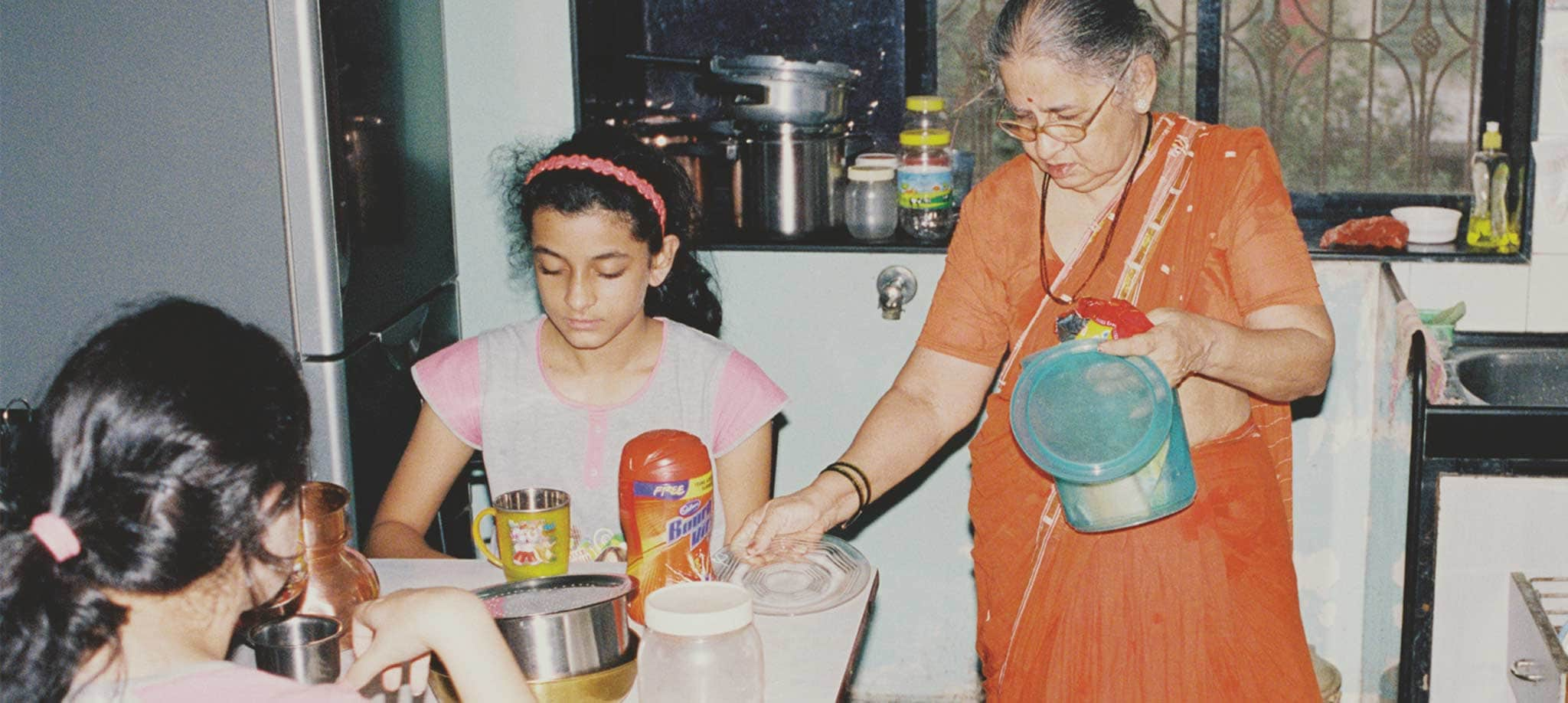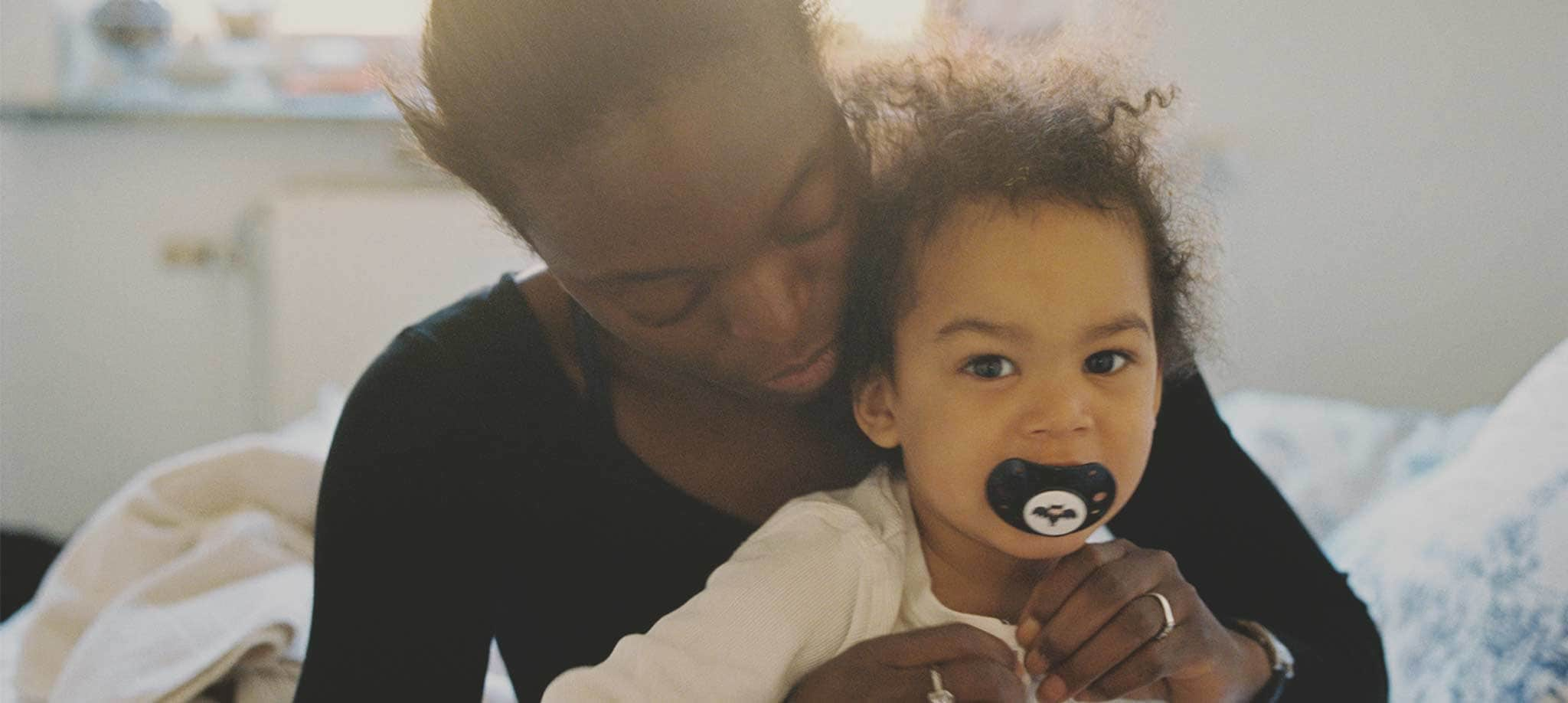 By 2030 our ambition is to inspire and enable more than 1 billion people to live a better everyday life within the limits of the planet
SAVING ENERGY
A brighter life at home with LED
In order to reduce energy consumption and greenhouse gases, we have taken a stand against traditional incandescent lightbulbs and switched our entire lighting range to energy-efficient LEDs. This really does mean everything, from bright and accurate kitchen lighting through to warm and cosy bedroom lighting. It also means energy savings, better light quality and lower environmental impact. Why not make the change to LEDs today? It'll brighten up the future for your wallet. And the planet.
Did you know?
LEDs are so tiny they can be built into almost anything, creating loads of new design possibilities.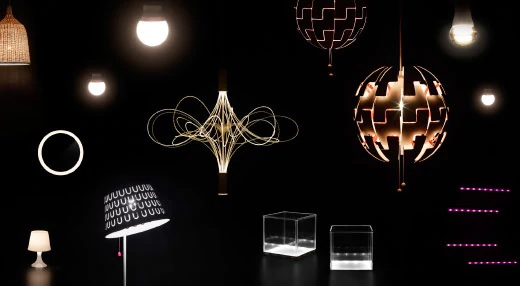 We've gone all-in! Now all the lighting we sell at IKEA is LED - better for your home and the environment.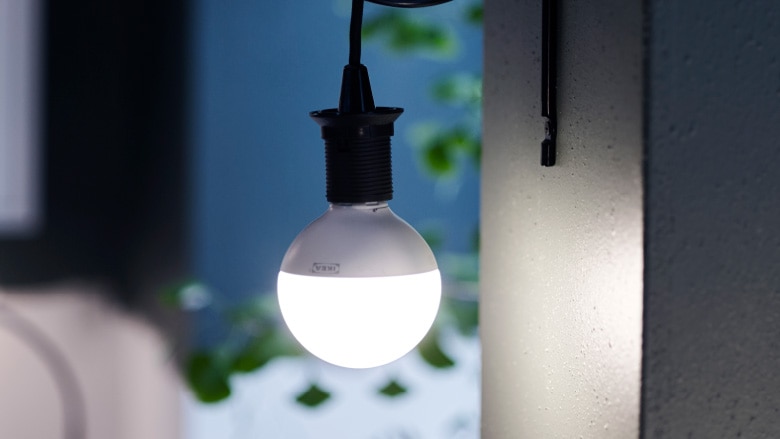 Introducing our brightest idea.
Lighting is a vital part of life at home. It makes our homes cosier and safer. But around 25% of the world's energy consumption is used for lighting. That's a lot. That's why we introduced RYET, a LED bulb that consumes approximately 85% less energy than traditional incandescent bulbs and lasts up to 15 000 hours. That means you could read for an hour each night for the next 41 years! Not bad for a €0,99 investment.

A brighter life at home with LED
Lighting is an essential part of our lives, for it makes our homes feel safer, cozier, and warmer. But because nearly 25% of the world's total energy consumption is used for lighting, IKEA hopes to create a more sustainable lifestyle that saves energy without sacrificing convenience. LED bulbs are indeed more costly than traditional incandescent bulbs, but just think about not having to change your bulbs for the next 20 years and saving all that money on electricity bills, they suddenly become more than worthwhile. When we learned the benefits of LED, we became committed to developing LED bulbs that are affordable to many people while making sure they are good looking, well-designed, and unique.

LED bulbs reduce 85% of energy consumption and they last for 20 years.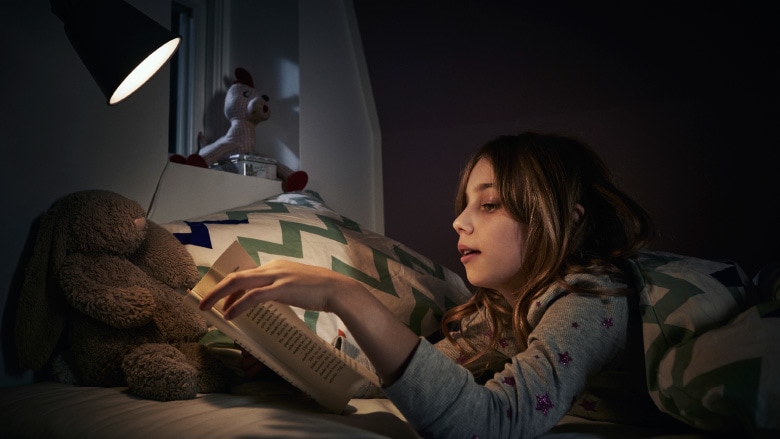 Lighting possibilities are endless with LED
Changing to LED bulbs is an easy first step for a sustainable life. See why we believe wholeheartedly in LED.
Better light, new designs and lower prices. Watch how we are fully embracing the LED lighting revolution.
Save money and the planet, without leaving your home
Whether it's hanging your clothes to dry, cooking on a high-speed induction hob or using energy-saving blinds, the little things can make a big difference. At IKEA, we have loads of products and solutions to make your home more sustainable. Because our ambition is simply to inspire and enable as many people as possible to live more sustainably and to make it easy and affordable.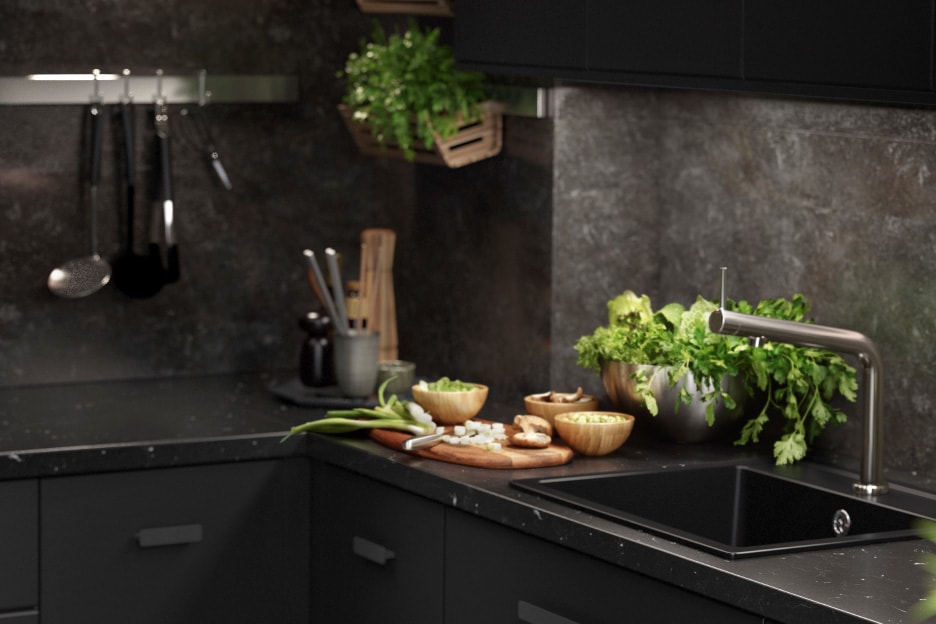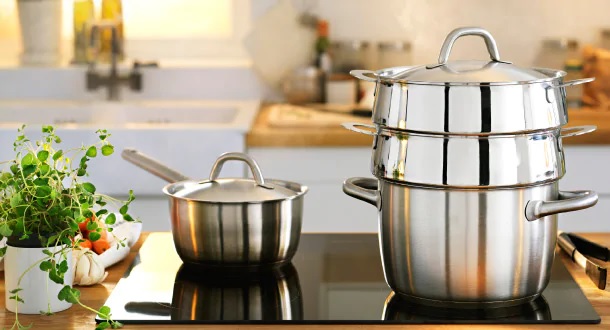 The take-away hob for stay-at-home dinners
Life at home is fast changing. Instead of eating in the kitchen and sleeping in the bedroom; we now eat, sleep and play wherever we feel the most comfortable. With the portable, affordable, and extremely energy efficient TILLREDA induction hob, you can now cook up a storm without leaving the sofa.
The latest in energy-efficient clothes drying
We tricked you with that headline. Sorry. The MULIG is a lightweight and portable drying rack, designed for the most environmentally friendly clothes drying approach you will find anywhere. So, stop wasting money on your electricity bill and wearing out your clothes in the dryer and start drying your clothes the old-fashioned way.

Did you know?
Tumble dryers are one of the home's most energy-hungry appliances. Over-washing clothing wastes water and energy and shortens their lifespan. Instead, try hanging garments out in fresh air to get another day's wear out of them.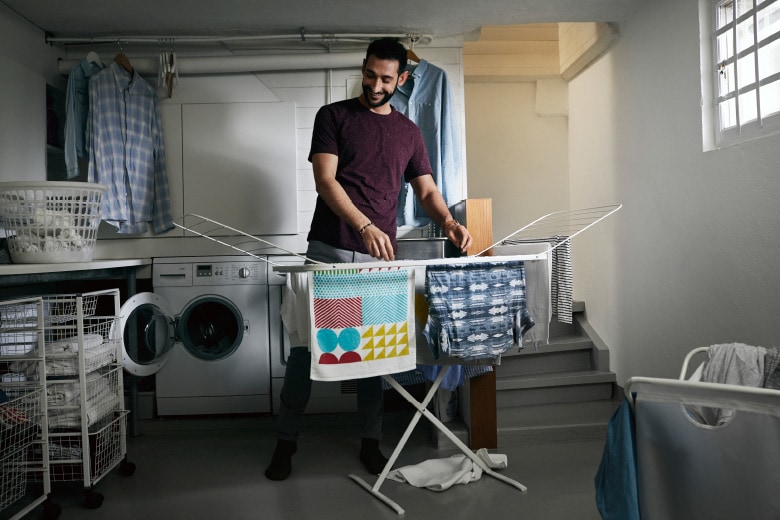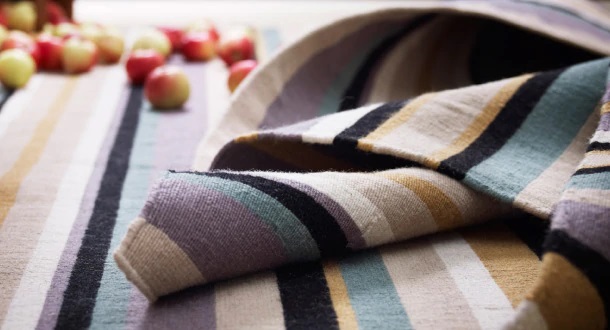 Heroes of a sustainable life at home: Rugs and curtains
Besides warming your feet, rugs also save energy! Much of the warm air is lost from the floor, but just by using rugs during cold winter makes the entire room warmer.

Another way to save energy while keeping the indoor temperature at a pleasant level is to use textiles to block the outdoor temperature. Use thick, heavy curtains during winter to prevent the warm air from escaping and use sheer curtains during summer to block the heat from outside while letting the daylight through.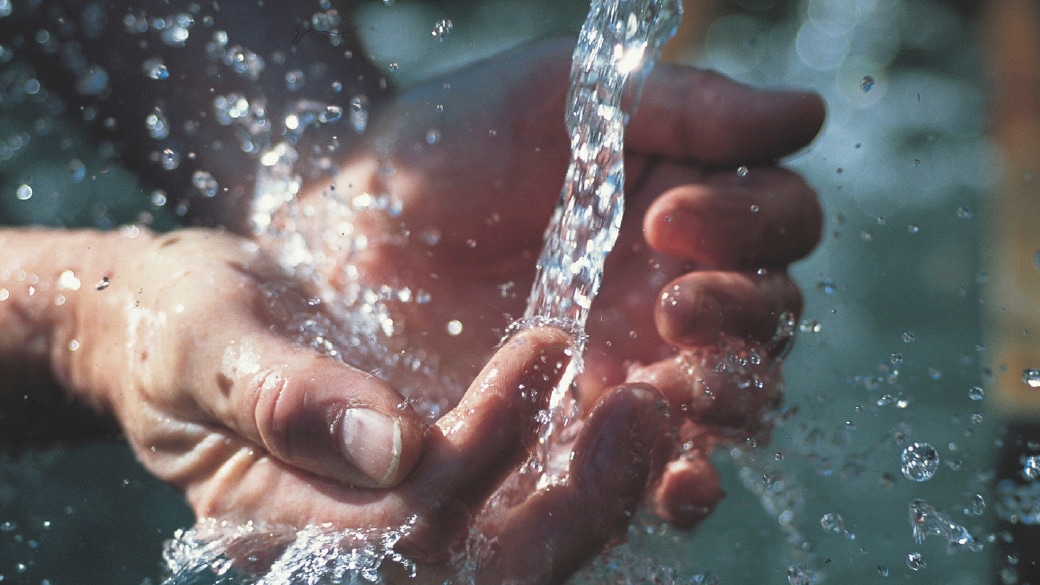 SAVING WATER
Tapping into more ways to use less water
Less than 3% of the water on our planet is fresh. That's why IKEA set about making kitchen and bathroom taps that reduce water consumption. As a wise man once said, you never know the worth of water until the well runs dry!
Water and energy saving showers
All our shower heads and hand showers are water and energy-efficient. This is achieved by a flow regulator, which reduces the water flow. Even though it delivers less water, you won't notice any difference in the water pressure. You'll save up to 30% water and energy compared to a shower without a flow regulator.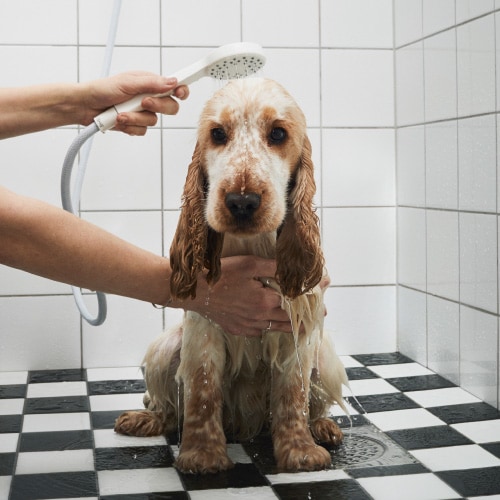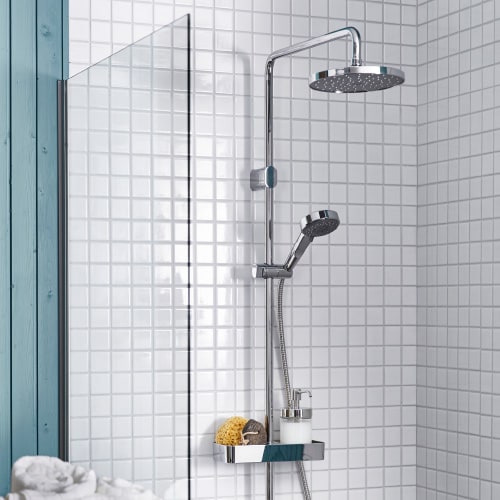 Did you know?
By turning off the water while brushing your teeth you can save up to 40 litres of water every day.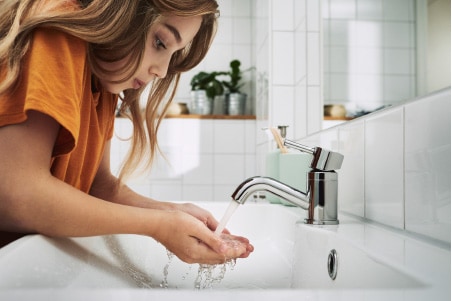 Great energy saving news for parents living with teenagers.
Water, water, everywhere, but only a tiny fraction of it is fresh. Heating such a precious commodity for daily rituals can incur even more cost. That's why we have included the cold start function in PILKÅN. The cold-start function avoids hot water waste, saving up to 30% in energy. When you lift the lever straight up, only cold water is released, which means you only heat up water when you need it.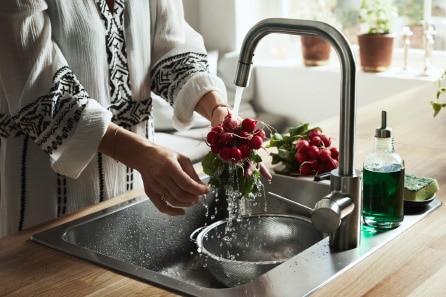 Take some pressure off
The ÄLMAREN kitchen tap is designed to reduce water consumption by up to 40% while maintaining pressure. This means you can lower your water usage and also your bills, and at the same time relieve some of the pressure to conserve our planet's water.

Did you know?
IKEA is just as committed to using water efficiently. We also work together with others to support sustainable water management in water-scarce regions and to increase people's access to clean water.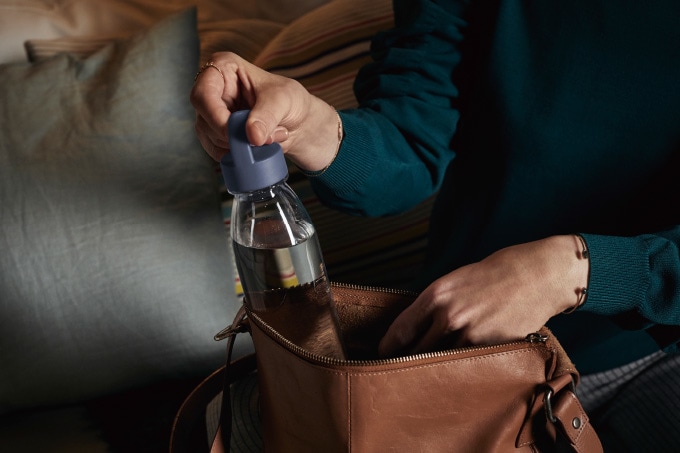 Make your own bottled water from a natural source. The tap.
The build-up of plastic waste on our planet is a matter of real concern for all of us. So, next time you feel like grabbing a bottle of spring water from some far-away and exotic well, don't. Instead, bottle your own water using the durable IKEA 365+ bottle. The planet and your conscience will thank you.

Did you know?
Many brands of bottled water are really just tap water – and often at 2,000 times the price. So refill your bottle from the tap to save both plastic and money.

The current trend is that there will be more plastic than fish in the world's oceans by 2050. To help stem the flow of plastic into the ocean, we have committed to eliminating single-use plastic from the IKEA product range and food outlets by 2020.
WASTE & RECYCLING
Using resources in a smart way
Recycling and preventing waste is something everybody can do – from small homes to big businesses. Preventing waste is a simple way to save money by only using what we need. And when we recycle, materials like paper, plastic and metal can be used again to make new products, instead of taking new resources out of the Earth. Who knows what your next egg carton or juice bottle could become next!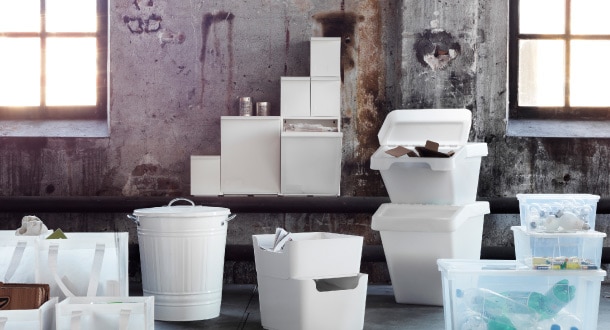 Let's talk trash
VARIERA is a modular recycling system that you can customise to get a completely personal solution. The bins are easy to lift and carry, and the lids lock in odours. Made from 70% recycled plastic, VARIERA is good for both you and the planet!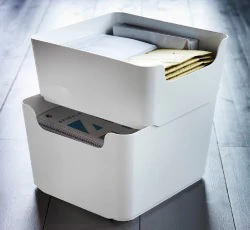 Get creative with ways to sort
Great for small spaces, or when there's no room under the sink, we made the RETUR freestanding solution in three different sizes. Made from easy-clean plastic, they all have built-in handles so they're easy to lift and transport.
Using rechargeable batteries to save energy
Join us on the journey of saving energy by switching to rechargeable batteries and reducing use and waste of alkaline batteries. Our newly launched rechargeable batteries and chargers are more affordable than ever, making them easier and more convenient to use at home.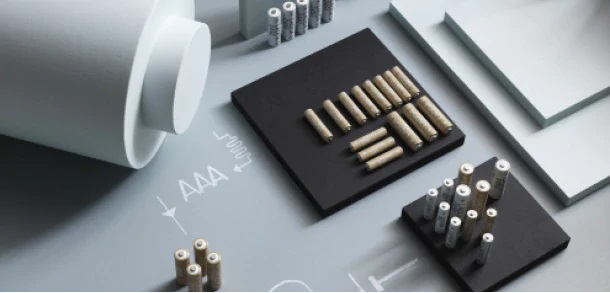 Better efficiency and longer duration
Our latest rechargeable batteries can be recharged up to 1,500 times, and they come with high and low capacities for you to choose from based on your needs. For instance, camera flashes need a large amount of instantaneous electric power, while computer mouses use a small amount of long-term electric power. Choosing the right batteries prevents unnecessary recharging and helps you use energy wisely.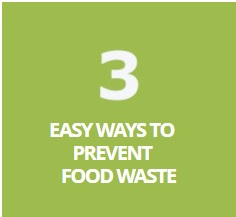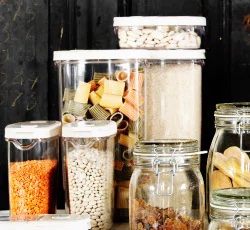 Storage and Stack
We found that the food in the transparent storage box is easier to be taken! Try to label the purchase date on the food containers and place them in the most conspicuous place, so that family members can clearly see how much food is waiting to be taken.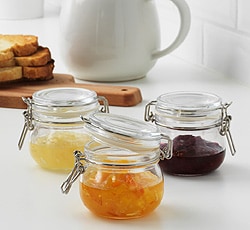 Preserve
A trip to the farmer's market can easily turn into preserves for the year. Our KORKEN series containers are made from at least 40% recycled glass and can store your grandmother's spiced chutney recipe when plums are in season.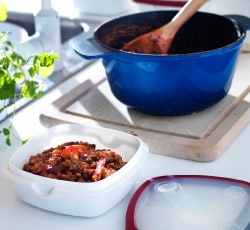 Cook and save
Leftovers are great but who wants to eat spicy black bean soup five nights in a row? Make weekly dinner menus and store leftovers in the freezer for lunch another day.
What does being healthy mean to you? For us, it's about making smart everyday choices that are good for both your body and the environment. It's about taking the bike instead of the car in your daily commute and activities. It's about a day at your desk that's actually good for your body and energy levels. It's about the joy of seeing the seeds you planted grow into a mini-garden - because, in the end, even the small changes make a big difference.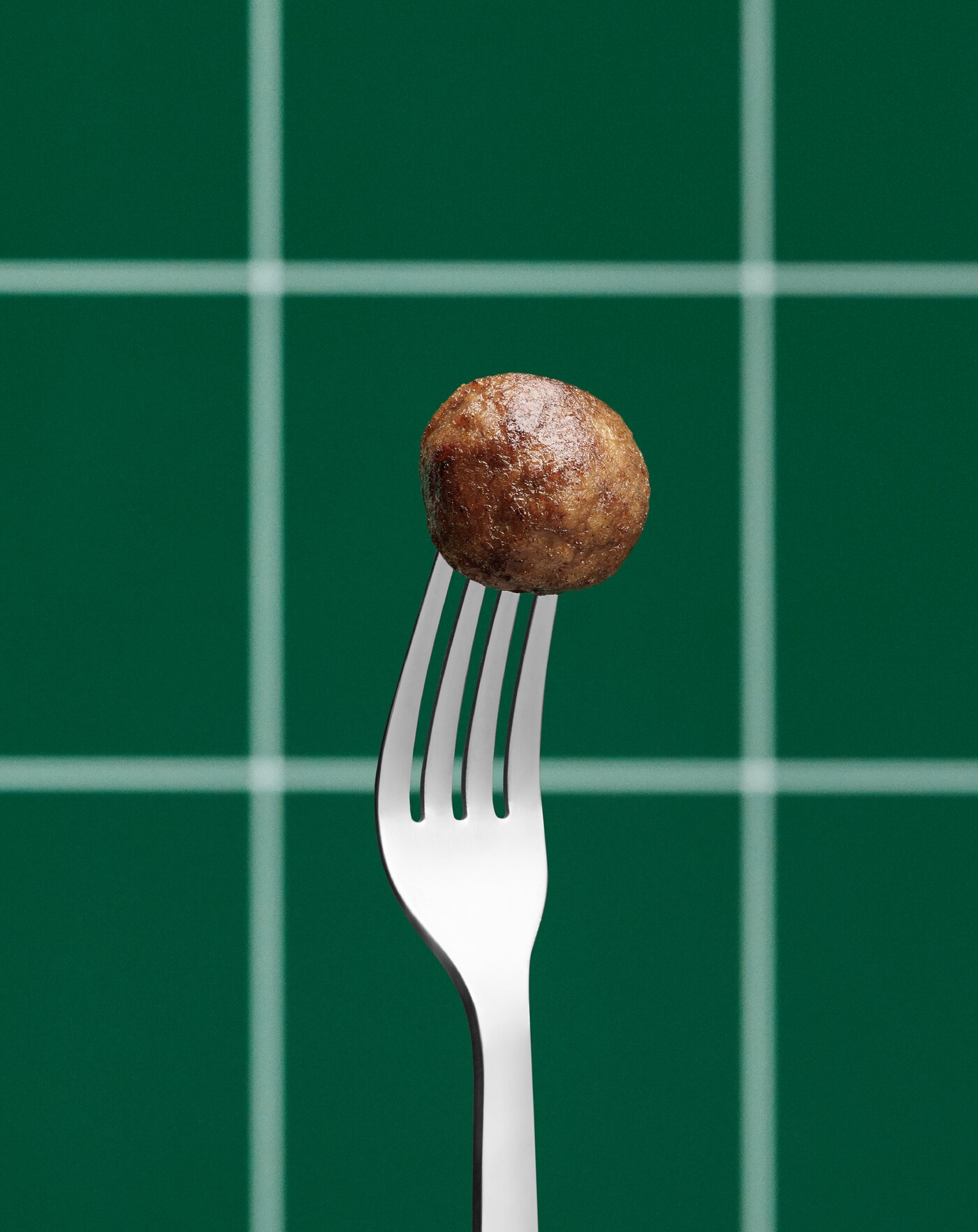 A plant ball for meat lovers
By increasing the proportion of our plant-based food – such as the plant ball – we are getting closer to our goal of becoming climate positive by 2030. Meat lover or vegan, making sustainable choices benefits us all, and we plan to make the world a greener place, one plant ball at a time. We sell around 1 billion meatballs a year, so converting even just some of them into plant balls will make a real difference.

When vegetarians meet meat lovers
Plant balls, specially developed for meat lovers, are made with pea protein, potatoes, onions, oats, and apples. The perfect meaty taste comes from the umami flavors, which are made with mushrooms, tomatoes, and roasted vegetables. These plant balls do not contain any animal ingredients, thus making them a more sustainable choice, and they are also good for vegetarians or vegans.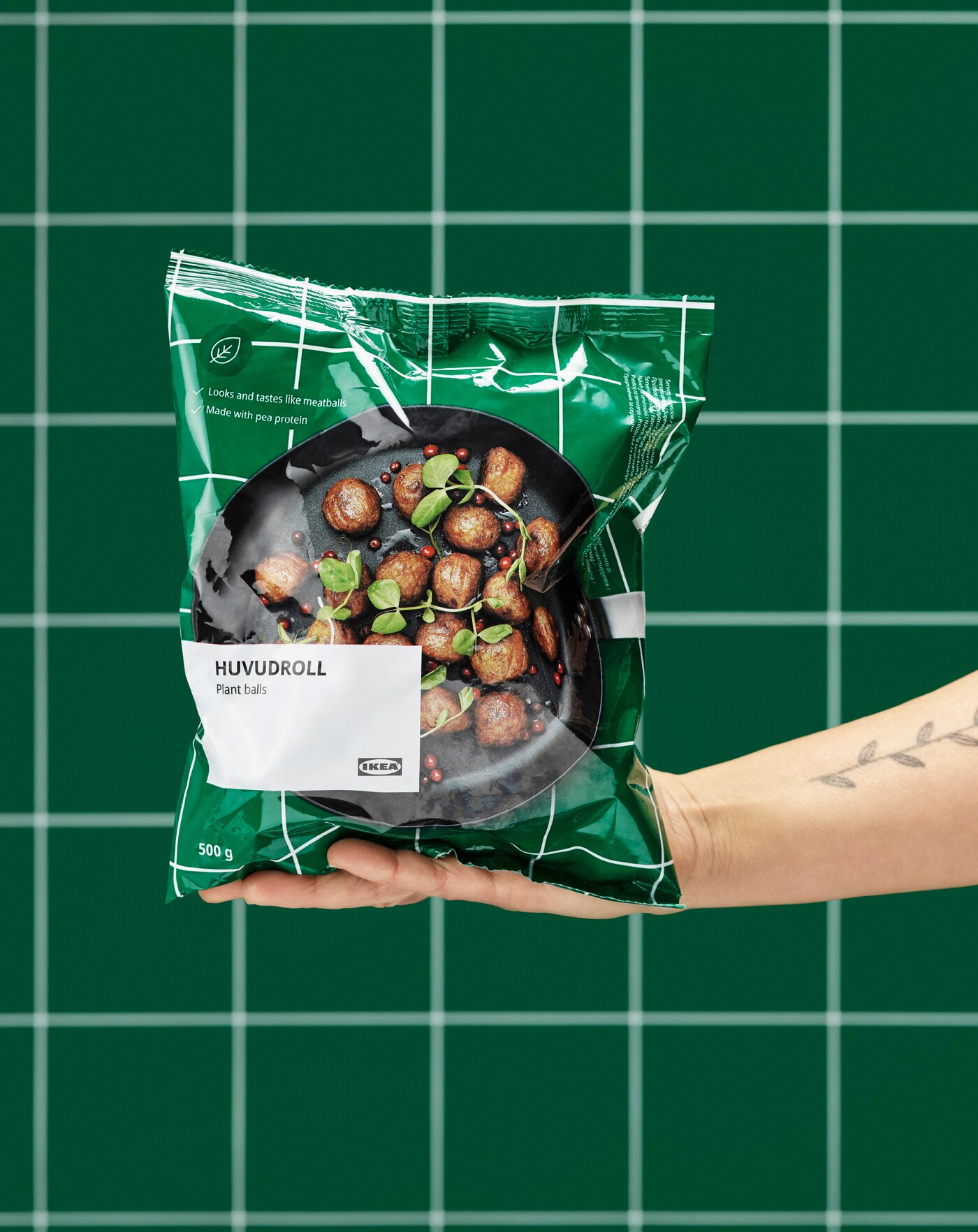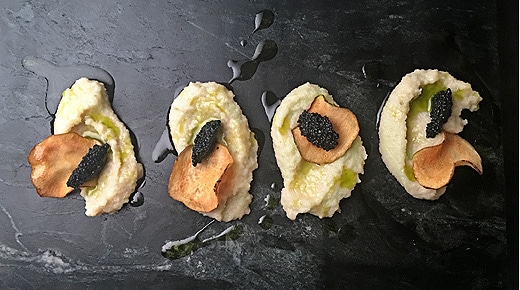 Making pearls from seaweed
Our seaweed pearls have a good texture, rich colour, a great taste and consistency similar to traditional caviar. Seaweed pearls are made from kelp and are a pure vegetable product.

Veggies with attitude, even the kids love
Our delicious veggie balls make sustainable eating easy – and you won't need to remind the family to "eat their greens".

But why create plant-based options? First of all, because we think more sustainable food should be delicious and affordable, and we want to make it easier to make better everyday choices. Also, plant-based foods need less resources, while making a smaller carbon footprint. Apart from the fact that ingredients like kale, lentils, quinoa and onions are high in nutrition, fibers and proteins. Join us in our effort to make more planet-friendly food choices and try some veggie balls – or become acquainted with the veggie hot dog in our IKEA Bistro, next time you visit.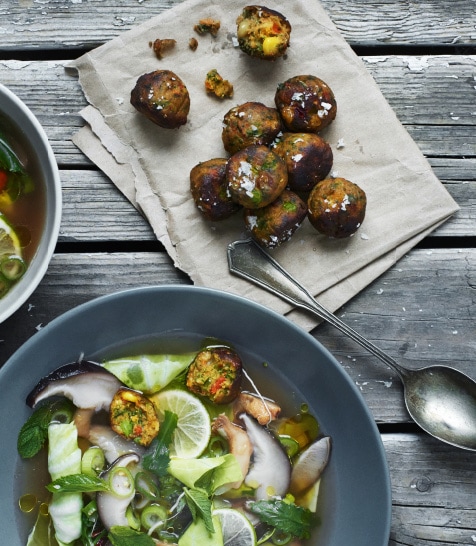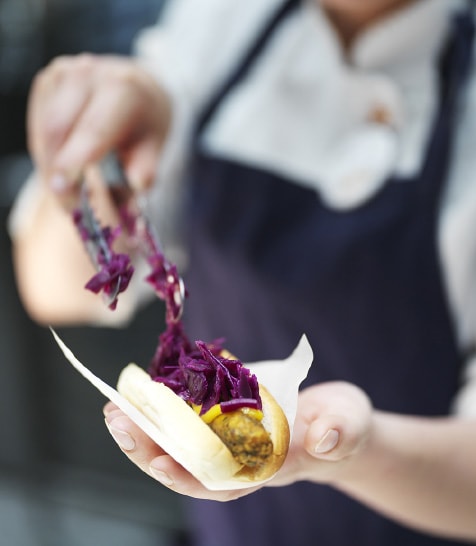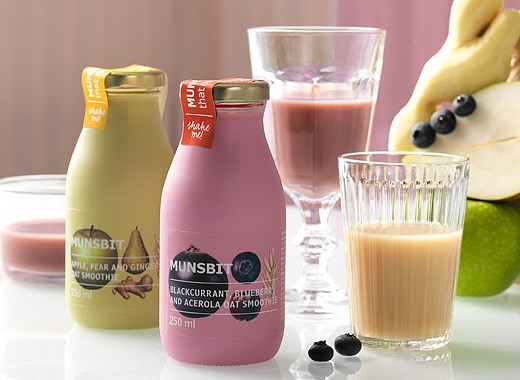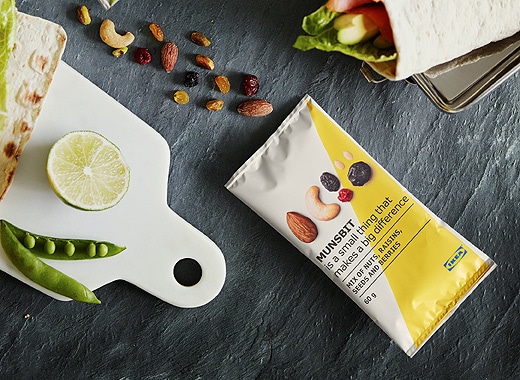 Let's get nuts, with oats you can drink
MUNSBIT is a series of energy boosting snacks and smoothies that are perfect for keeping your tummy happy – whether you're relaxing at home, or are on the go. MUNSBIT oat smoothies are non-dairy and plant-based.

Hydroponics lets you grow plants without soil, using mineral nutrient solutions in a water solvent
Grow your indoor garden, all year round
So you think you can't garden because you live in small spaces? With our indoor gardening kits, seeds, added nutrients and cultivation light, you can grow your own crispy lettuce and tasty herbs anywhere in your home. Even in the winter.

A mini-garden at home
Help the colour bloom inside your home with the simple SOCKER series - a clever, functional and decorative series for creating your own green spots at home. Whether for flowers, herbs or vegetables, the series includes a beautiful greenhouse, plant stands, a watering can and much more - letting you add greenery and maybe something good to eat.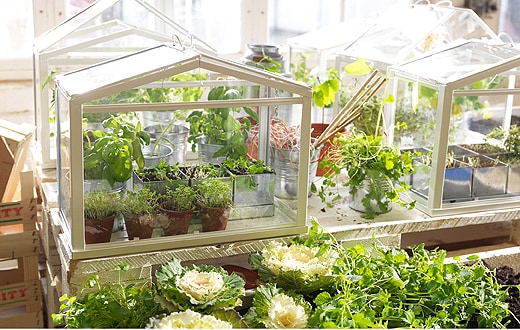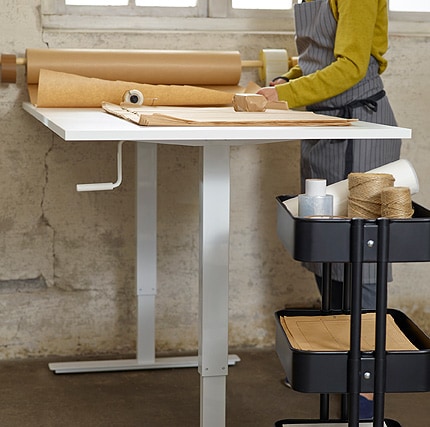 Take a stand
No more long days just sitting and working. We've rethought what makes for a healthier way to be your productive best. With our BEKANT and SKARSTA work desks you can find your comfort zone by adjusting to different heights for either sitting or standing. Alternating between these positions is proven to help you both work and feel better.